Are you an avid traveler? Do you love to write down your many adventures online? You should like a natural travel blogger, but the internet is full of them. Sadly, a lot of great stories are never heard because the smaller journals can't compete with the big ones online. You could be missing out on a major audience, and even some cash for work.
Luckily, there are tools that can help you to create a better travel journal, and share it with more people. This is the first step in potential monetizing your travel journal. Here are five of my personal favorites that I use myself on a daily basis.
Create maps, post pictures and build a professional looking website without any experience. There are both a free and premium version of this service, and both will lead you carefully through the process of building the perfect travel site. Everything is very simple to use and follow, and the end result is very attractive. Especially for a free site.
I like the well-organized layout and great usability of this tool: Exactly what you need when blogging while on the road!
Create a travel map and load it with pictures, text and video. Then share that map with anyone you like, giving them an extensive view of your travels from one country to the next. I love this site, and I always make a map that I end up linking to my personal blog. Not only does it get attention on my website, but it brings in visitors who have come from MapVivo, as well. Plus, it is a quick way to show off my trip through social media, which also links to my blog.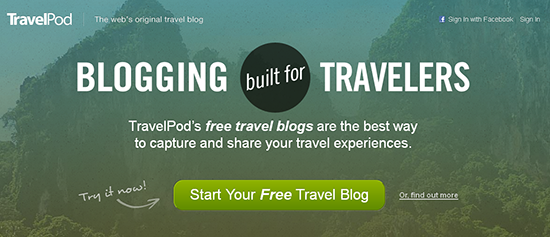 This is a full travel blog platform that is built for the niche rather than others that have to be carefully customized. There are tens of thousands of regular users, and the site has been praised everywhere from National Geographic to Trip Advisor. Along with offering a large network of travel blogs through their site, you can also map your trip, use mobile blogging and even publish a physical travel book based on your posts.
If you have an iPhone, this is the app for you. Provide live updates to blog readers using this travel journal app that includes GPS trip mapping, photo and video sharing, notes, Google Earth integration and more. All of that for only $2.99, which is well worth the cost for such an intuitive application.
Finally, you have an old standard: networking. Connecting with other bloggers and travelers is going to be one of your most useful resources as you build visibility. This is one of my person favorite social networks, and should be a must on your daily site list. So far it's brand new but looks very promising with lots of authentic users already sharing inspiring pictures and interacting with each other.
Do you know of any tools for creating and sharing travel journals, for fun or profit? Let us know in the comments.
Guest Blogger: Jessy is the travel blogger for Dobovo.com, the free app to find apartments in Eastern Europe.