Eliminating the need for air waves and providing many millions of hours of viewing pleasure to anyone who happens to visit, YouTube has become the internet's answer to television, even providing live streaming technology. With its huge mass of users - the site now boasts more than 500 million of them - YouTube presents any blog or business with unbeatable marketing opportunities.
While it obviously covers every niche imaginable, YouTube is able to shine especially brightly when it comes to the automotive niche, providing a perfect platform for video reviews, news and discussion on a topic that affects nearly all of us.
Whether you're looking to get inspired or simply need a dose of road warrior visuals, here are six of the best-designed automotive YouTube channels: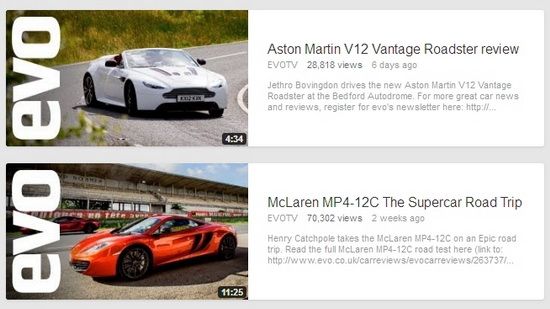 Providing news and reviews focused on the world's top vehicles, the YouTube channel of evo TV offers a simple design that is aimed at allowing for simple advertising, helping the owner to generate revenue. The design alone doesn't do the trick, though; an inventory of 285 high quality videos acts as the draw to bring visitors in.
Boasting more than 100,000 subscribers, Car and Driver offers their main YouTube channel as a hub to other, more topic-centric channels run by the same team and their design focuses on this. The channel's header sports quick, visual links to channels ranging from "Car and Driver Stunts" to "Saturday Mechanics," providing something unique for every automotive enthusiast.
Social media links are also nicely integrated here, giving visitors one-click access to Car and Driver's Twitter feed and Facebook page, bringing together their social media in a simple and easy to use manner.
The Smoking Tire, a well-known source for user-created car reviews with an edge, aims for simplicity on its YouTube channel page, allowing an industrial background and focus on navigation to to suffice while its more than 100 available videos do the talking.
Many car enthusiasts, those in the United Kingdom in particular, will be familiar with the television series Top Gear, a show that offers a look at everything from casual driving to extreme automotive stunts. Top Gear's YouTube channel uses a flashy design that tightly incorporates the social feeds of both the series itself and its maker, the BBC. Facebook and Twitter links are available in both the header, via images, and the sidebar, via text links, giving visitors ample opportunity to further explore what Top Gear has to offer outside of YouTube.

A YouTube channel that's drawn more than 25 million views to its videos, Drive boasts a sleek look via its header and background, giving visitors the immediate impression of high speeds and open highways and proving to be very inviting for those looking for automotive information. The channel's header itself is often dedicated to advertisements, but the page designers are always sure to insert visual ads that fit with the overall look and feel, never allowing the changing image to interfere with the smooth design.

Potentially one of the best-designed channels on YouTube, Fast Lane Daily uses a punchy color scheme to give its channel a very unique and memorable look. As with many of its competitors, social networking links are well-integrated and subscriptions are encouraged by a very visual and color-coordinated call to action.
Boasting a collection of almost 1,500 videos that have received more than 150 million views, Fast Lane Daily is quickly becoming one of YouTube's favorite car channels and their cool design can be thanked for at least some of that popularity.
Guest Writer:
Anna is the social media strategist for
cheapcarinsurance.net
and the experienced blogger and guest blogger